1
« on: April 10, 2021, 1408 UTC »
The DK2OM document is a very good primer on HF radars, however there are several issues with it. The largest is its age. Because of its age it does not list newer radars such as the Russian 29B6 that is a serious contender for this source, and also at least one signal in it is probably not a radar.
To the OP, confirming that your question was about a radar that was present on ~7285 kHz at 2339 UTC, March 29, 2021, and terminated sometime before 0030 UTC on 30 March. The same radar was again seen on ~7285 kHz at 2332 UTC on 30 March? And also, you are relatively certain this was a radar, and not DRM?
The reason I ask if you are sure it was not DRM, on the nights of 24 to 31 March, from 2330z to 0000z each day, there is a signal that looks very similar to DRM that can be seen on the Twente WebSDR full day page (
http://websdr.ewi.utwente.nl:8901/fullday/
it defaults to the last 24 hours, but at the top you can enter the date you want to see ). Unfortunately, because of the relatively low resolution of that page it can be difficult to tell DRM from certain narrow radars, such as the 29B6. But the start and stop times across a weak+ worth of time are suspiciously regular to be a radar, such timing is more consistent with other kinds of signals. While radars which change frequency to chase propagation conditions (most radars that change frequency through the day do it for this reason) often do approximately the same thing every day for days in a row, they don't typically do exactly the same thing for several days in a row.
Here is a crop from the Twente Fullday plot of the 29th of March, showing the time and frequency in question: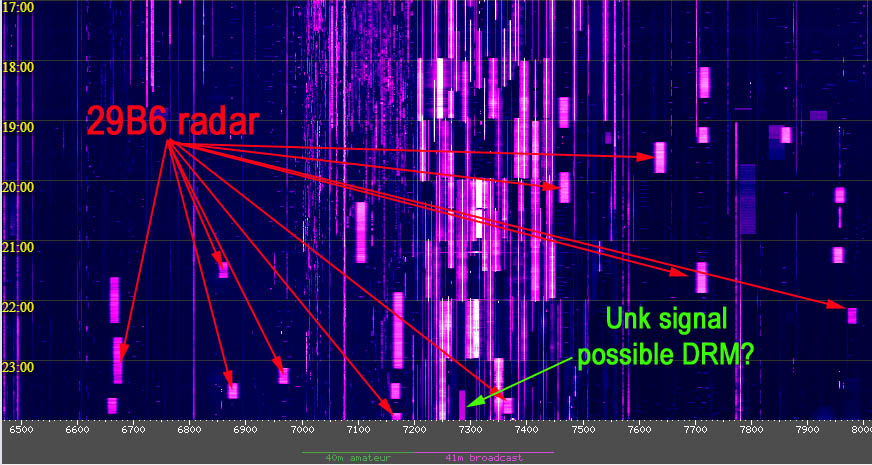 If you are fairly certain it was not DRM then the 29B6 is my leading suggestion as a candidate.
T