ENIGMA
From HFUnderground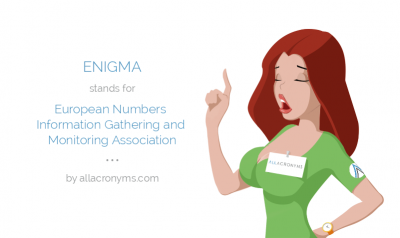 E.N.I.G.M.A. stands for "European Numbers Information Gathering and Monitoring Association".
History
ENIGMA was a unique association of radio listeners (DXers) based in the United Kingdom which operated during the 1990s. It was founded in 1993 by Chris Midgley and Mike Gaufman and soon a number of mystery station specialists joined in. They issued a printed bulletin every few months, which was mailed to subscribers.
The 18 in total issues of the ENIGMA bulletin contained a lot of interesting information about odd and mysterious high frequency transmissions, contributed by radio listeners worldwide. The reception logs were organized, collated and analyzed by the core ENIGMA staff. The coverage was mostly about Spy Numbers Stations, but there was also some coverage of other radio mysteries, such as letter beacons. The ENIGMA bulletins were not archived in libraries and it is very difficult to obtain copies today.
The original ENIGMA group was disbanded in 2000. In his farewell letter, ENIGMA co-founder Mike G. (Gaufman) wrote that all ENIGMA publications and research material would be deposited at the British Library (Boston Spa).
ENIGMA transmission classification scheme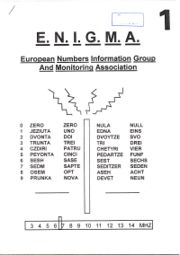 The major achievement of ENIGMA was the systematic classification and naming of the numerous radio oddities, which were previously described by different and conflicting names in various publications. Each transmission was assigned an identifier, which consists of a letter and a number. The letter specifies the type and language of the transmission following this pattern:
M: Morse code
S: Slavic languages
G: German language
E: English language
V: Various languages, inlcuding Spanish
X: specialized non-voice transmissions
The ENIGMA transmission classification scheme is still maintained by ENIGMA2000.
Archive at priyom.org
In 2014 the Russian priyom.org group scanned and uploaded all 18 enigma bulletins. They are freely available in PDF on their website: http://priyom.org/blog/preserving-history-enigma-newsletters.
See also
External links
This article contains textual material from Wikipedia (TM). Wikipedia texts are licensed under the Creative Commons Attribution-Share Alike license.
In short: you are free to distribute and modify the text as long as you attribute its author(s) or licensor(s). If you alter, transform, or build upon this work, you may distribute the resulting work only under the same or similar license to this one.
Wikipedia article: Letter_beacon
WP