Global Pirate Radio Weekend
From HFUnderground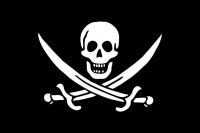 The Global Pirate Radio Weekend is an annual event, which is organized by Harri Kujala (1), who publishes entries and schedules on his blog. For 2012 it shall be held from March 31 to April 1, 2012.
The Global Pirate Radio Weekend is a coordinated event that gives pirates from all over the world a chance to test their broadcasts on the HF spectrum, mainly on the higher bands between 15-22 MHz. It is also a great opportunity for radio listeners to log pirate radio stations from across the globe.
Basic schedule
08:00-12:00 UTC from Europe to Asia, Japan & Oceania.
12:00-16:00 UTC from Europe to North America and vice versa.
22:00-24:00 UTC from North America to Asia & Oceania.
References


This site is a participant in the Amazon Services LLC Associates Program, an affiliate advertising program designed to provide a means for sites to earn advertising fees by advertising and linking to Amazon.com. Some links may be affiliate links. We may get paid if you buy something or take an action after clicking one of these.