Radio Free Speech
From HFUnderground
Note: This entry needs historical background. You can help by adding relevant information.
---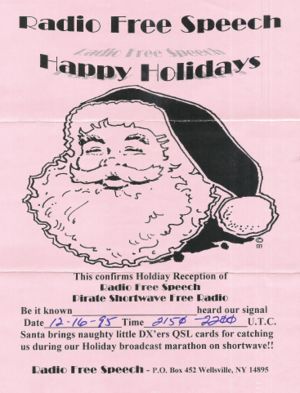 Radio Free Speech with host Bill O. Rights returned to pirate radio in October 2008 after a decade-long hiatus. During the first logged return program, Oct. 8, 2008, on 6925 kHz he said: "I'm Bill O. Rights, and it's nice to be back. Let me remind you as I always have, never, under any circumstances, let the government tell you they're taking your rights away for your own good. This is Radio Free Speech, back after a 10 year absence. I'm Bill O. Rights."
Radio Free Speech operator Bill O. Rights has stated he uses a Grenade transmitter. Reportedly Radio Free Speech programs are also relayed by other pirates.