Radio Ga-Ga
From HFUnderground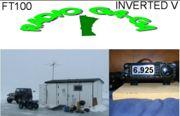 Radio Ga-Ga is a shortwave pirate radio station first heard during the Winter of 2008. According to the station operator:
"Radio GA-GA was chosen late one winter evening out ice fishin'. All we had was an old Queen cassette and player, all other music came from an FM broadcast station...
"Nothing was happening on 11m so I twisted up a pair of cat5e wires for each side of the (inverted) V and tied 'em off to folding chairs stuck in the snow... GA-GA was born!"
One of the more active pirates on and near 6925 kHz USB throughout 2009 including early mornings, Radio Ga-Ga often starts and ends broadcasts with SSTV images featuring the station ID, and plays varied musical selections. A signature song has been studio and live versions of Radio Ga Ga by Queen, and, on a couple of occasions, Pokerface by Lady Gaga (reportedly to humor one particularly unhinged listener who badgered RGG via IRC #pirateradio to play music by the pop songstress/performance artist - the operator for Radio Ga-Ga accepts no blame for the effects this may have had on unwary DXers).