Voice of the Robots
From HFUnderground
Voice of the Robots is a shortwave pirate radio station first heard in June of 2009.
The station responds to reception reports via voiceoftherobots@gmail.com and sends a very nice eQSL: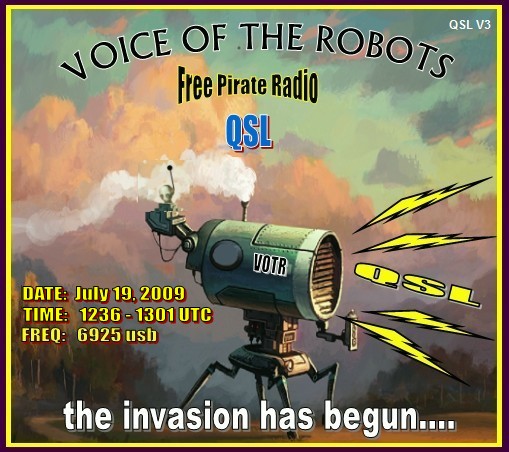 THANK YOU HUMAN FOR YOUR COMMENTS....YOU WERE TUNED TO THE VOICE OF THE ROBOTS....WE HAVE INVADED THE PLANET YOU CALL EARTH....YOU ARE POWERLESS TO DEFEAT US.....EVEN YOUR FEEBLE ATTEMPT TO JAM OUR TRANSMISSION HAS FAILED.
IT IS TIME TO BOW TO YOUR NEW MASTERS.....PRESENT THE ATTACHED QSL VERIFICATION CARD AND WE WILL LET YOU RULE RHODE ISLAND.
WE ARE OFF TO INVADE DELAWARE.....UNTIL NEXT TIME.....THIS IS THE VOICE OF THE ROBOTS.