WKND
From HFUnderground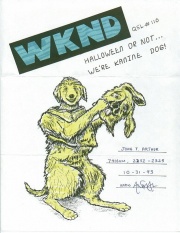 WKND, "We're KaNine Dog," was a pirate radio station operating from 1988-1990 on mediumwave and shortwave radio frequencies. Signal reports from 2011 indicate WKND may be in operation again, although several shows logged since late 2010 appear to be relays of older classic WKND shows.
The founder of WKND, Radio Animal, is among the genuine legendary figures in the North American free/pirate radio scene for his programming creativity and technical expertise. In addition to his free radio projects in the HF, MW and FM spectrum, Radio Animal also developed the Grenade transmitter, a low power AM transmitter sold to several pirate radio operators, many of which are still in operation 20 years later, garnering signal reports throughout North America and occasionally overseas.
According to Radio Animal - also known as Boomer to his friends - the WKND station initials originally stood for "Weekend Radio," with the name later changed to "We're KaNine Dog" to avoid confusion with an existing Scottish pirate station and to reflect his own unique fursonality.
In 2010 WKND was among the first stations inducted into the North American Pirate Radio Hall of Fame.
See also